Project Home – A New Landing Page for Project Online
By Chad Olson, MCTS, MCSE, MCP at Sensei Project Solutions
Introduction
Project Home for Microsoft Project Online is coming soon to a tenant near you. Project Home is a new user-centric landing page for Project Online. It is intended for project managers to quickly access their most recent and favorite projects.
The landing page is shown when you access the 'Project' icon from the Office 365 app launcher (or waffle icon) in the top left-hand section of an Office 365 page. The page can also be accessed from the home page at https://www.office.com by clicking the Project icon. For some tenants that have not yet rolled out this feature, the page can be accessed directly at https://project.microsoft.com.
Project Home features your eight most recent projects that you have accessed from the Project Web App (PWA) schedule page or from within the Project Online Desktop Client. One nice feature is that it shows projects that span different PWA instances within your tenant. You can then click on the 'Show More' link to expand to eight additional recently accessed projects. Project Home also features a 'Favorites' section that allows you to mark projects as Favorites by hovering over the project and clicking the star icon, or using the ellipsis and choosing 'Add to Favorites'. You can choose to remove a project from the Recent or Favorites lists as well by clicking the ellipsis and choosing 'Remove from List' or 'Remove from Favorites'.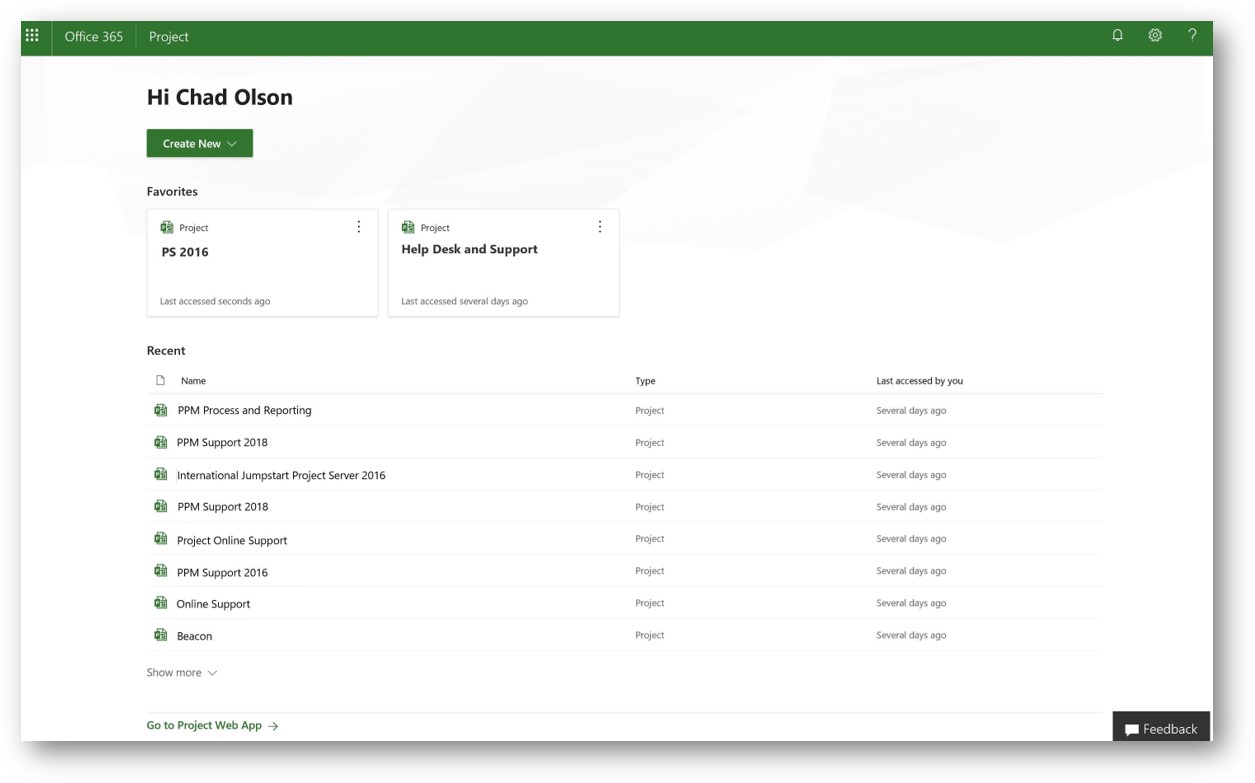 Figure 01 – Project Home page showing two favorites and 8 recently accessed projects.

Figure 02 – 'Remove from list' action
When you click on a project from the 'Recent' list or your 'Favorites', it displays the last accessed Project Detail Page (PDP) for that project in a separate tab within your browser. In fact, all the links on the Project Home page launch in a separate tab, allowing you to keep the Project Home tab open and easily refer back to it.
The Project Home page also features a 'Create New' button that currently lists 'Project' as the only option in the drop-down menu. This will launch the 'Create Project Wizard' page from your instance at /sites/pwa. If you do not have an instance at this default location, you will be presented with an error message. Microsoft is planning to incorporate other types of projects into Project Home from within the Microsoft ecosystem, such as Planner, Visual Studio Team Services (VSTS), and Dynamics Project Service Automation (PSA).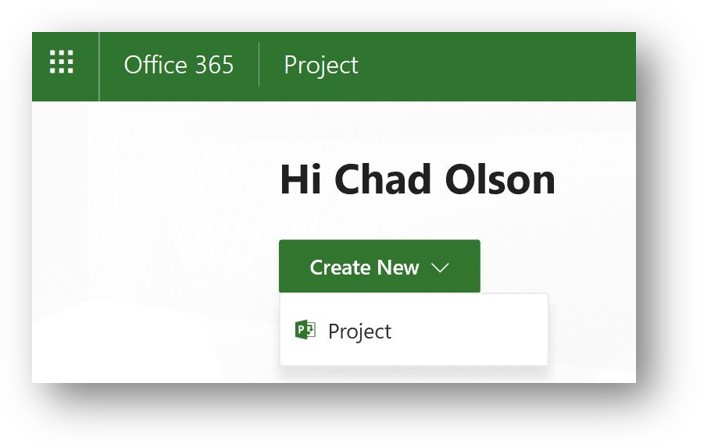 Figure 03 – Create New Project
The Project Home page also features a 'Go to Project Web App' link at the bottom of the page. This will allow you to go to the same homepage in PWA that was previously in place. This link is also hardcoded to the default site collection at /sites/pwa. You can also access this site from the 'Project' header on the top of the Project Home page as part of the Office 365 suite bar.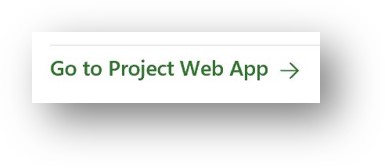 Figure 04 – Go to Project Web App link
The final piece of functionality on the page at the time of this writing is a 'Feedback' button at the bottom-right of the page to allow direct inline product feedback. This feedback is tied into the Project UserVoice site that is used by Microsoft to prioritize feature requests from the user community.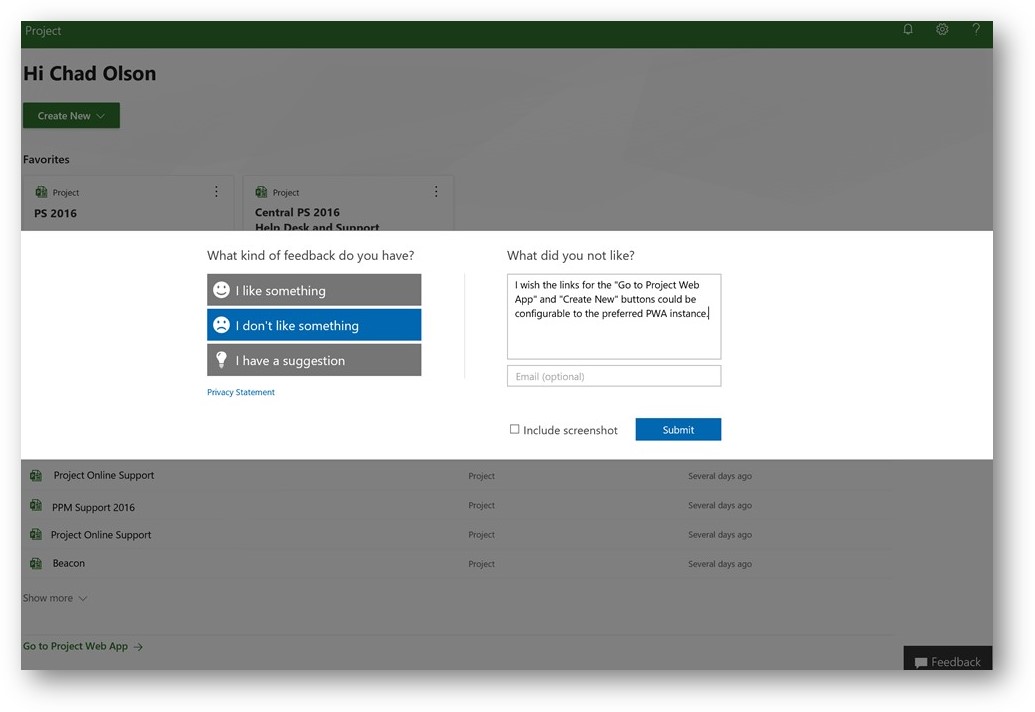 Figure 05 – Feedback function
Conclusion
Project Home has a nice modern look and feel to it using Office Fabric UI React components, and I see the potential to add features and functionality to it in the future. Currently, it is Project Manager focused, as there are no links for activities for Team Members, Resource Managers, Portfolio Managers, etc. In the future, I would like to see links to the Timesheet, Resource Center, Project Center, and Reports. I would also like to have the ability to launch Project Online Desktop Client into the project, as many project managers use Project Center today as a navigational method to launch their project in the Project Online Desktop Client. In addition, I would like to see functionality to allow the user to configure the location of the links to their preferred Project Web App instance, instead of being hardcoded to the default one. Many of our clients delete the default one and use a standard SharePoint page at that location to provide navigational links to their other PWA instances. It will be exciting to see Project Home in the future get extended to show other related projects no matter where it's being managed.
We are looking forward to Project Home being introduced to our customers worldwide in the coming weeks, and hopefully this article will help with their use of this new feature.
About Chad Olson, MCTS, MCSE, MCP at Sensei Project Solutions
Chad has been involved in the Microsoft PPM platform and related products since 2001. He has focused on the technical aspects of installation, design, architecture, configuration, and customized reporting. Chad has completed hundreds of different customer engagements utilizing Microsoft Project that has spanned across many different vertical industries. He is very involved in keeping up to date with the latest technical news related to Microsoft Project, is connected with the Microsoft Project product team, and has presented at the Microsoft Project Users Group (MPUG). He has conducted training classes for administrators, report authors, and project managers on the toolset with processes and procedures for several clients.
About Sensei Project Solutions
Sensei Project Solutions, a Finalist for the 2017 Microsoft Project and Portfolio Management (PPM) Partner of the Year, focuses on bringing Instant Productivity to your team. Our mission is to help individuals and organizations be more productive so that they can achieve their greatest potential. As a Gold certified Microsoft Partner and Registered Education Provider (R.E.P.) with the Project Management Institute (PMI®), Sensei offers a complete set of services and products for a successful Microsoft PPM deployment. Our guiding principles for Proactive PPM follow best practices and industry standards aligned with the Project Management Institute (PMI) and Gartner, enabling organizations to manage resource demand, obtain business intelligence that facilitates better decision making, increase business effectiveness by easily connecting people, and become self-sufficient with PPM processes and solutions. In short, Sensei helps organizations achieve Instant Productivity.