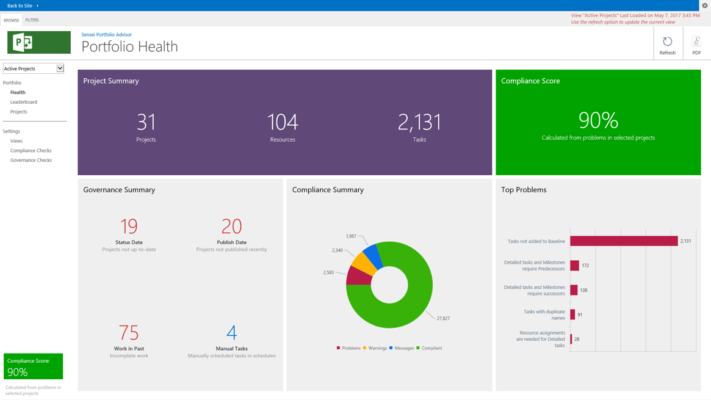 Sensei Project Solutions releases Sensei Portfolio Advisor™ App for Microsoft PPM in the Microsoft Office Store
Automated health checks of projects in Microsoft PPM enable project managers to build good schedules and provide visibility into schedule compliance and governance.
Phoenix, AZ – May 4, 2016
Sensei Project Solutions announced today the official launch of the Sensei Portfolio Advisor™ App for Microsoft Project Online and Project Server, which automates governance and compliance checks for projects in the portfolio.
"Data quality is incredibly important in any PPM system," said Kenneth Steiness, CEO of Sensei Project Solutions, "so the ability to monitor quality objectively and ensure compliance is critical. Otherwise, executives are making decisions from bad data."
The app provides a portfolio-level overview of schedule health based on industry standards from the Project Management Institute (PMI®) and project management best practices, and it constantly monitors any exceptions to the organization's governance process.
The included Schedule Compliance checks cover 'Work Breakdown Structure', 'Resources', 'Schedule' and 'Links'. In the first release, there are 29 compliance checks, and more will be added over time.
The included Governance checks deal with project-level exceptions, ranging from schedules where the status has not been updated or published, to unsubmitted timesheets, overdue risks and issues, as well as incomplete work in the past and actuals tracked in the future. There are 12 standard checks in the first release of the app, and more planned for the future.
Organizations can choose the severity for each check, or ignore certain ones altogether. For valid exceptions on projects, individual checks can be 'Bypassed'.
The Sensei Portfolio Advisor™ app is available for individual users in the Microsoft Office Store, and organizations can purchase an Enterprise license directly from Sensei Project Solutions.
About Sensei Project Solutions:
Sensei Project Solutions, a Finalist for the 2015 Microsoft Project and Portfolio Management (PPM) Partner of the Year, focuses on bringing Instant Productivity to your team. Our mission is to help individuals and organizations be more productive so that they can achieve their greatest potential. As a Gold certified Microsoft Partner and Registered Education Provider (R.E.P.) with the Project Management Institute (PMI®), Sensei offers a complete set of services and products for a successful Microsoft PPM deployment. Our guiding principles for Proactive PPM follow best practices and industry standards aligned with the Project Management Institute (PMI) and Gartner, enabling organizations to manage resource demand, obtain business intelligence that facilitates better decision making, increase business effectiveness by easily connecting people, and become self-sufficient with PPM processes and solutions. In short, Sensei helps organizations achieve Instant Productivity.
For additional information contact Sensei Project Solutions at 480-582-1824 or info@senseiprojectsolutions.com.