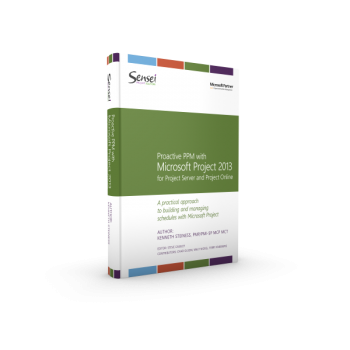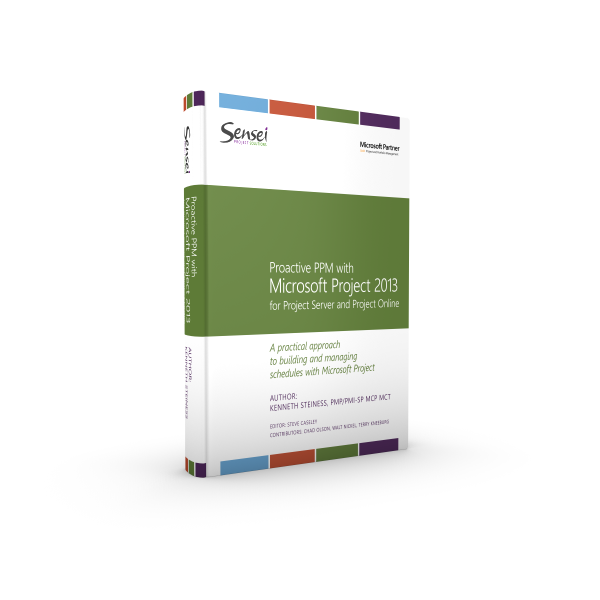 Proactive PPM with Microsoft Project 2013 for Project Server and Project Online
Buy now
Description
Printed in high resolution and full color, screenshots and illustrations come to life for enhanced learning and comprehension. This book focuses on project management best practices with Microsoft Project, enabling project managers to build solid schedules that will reflect the true scope of the project and continuously forecast status through completion.
This book is closely aligned with industry standards from the Project Management Institute (PMI®):
The Project Management Body Of Knowledge (PMBOK) – 5th Edition, by PMI®
The Practice Standard for Work Breakdown Structures – 2nd Edition, by PMI®
The Practice Standard for Scheduling – 2nd Edition, by PMI®
The overall goal is to teach project managers a practical approach to "how" they should be using the tools in the context of industry best practices. As such, the book emphasizes the features of Microsoft Project and Project Web App that help facilitate Proactive Project and Portfolio Management (PPM).
Reviews
Excellent Project Server 2013 Reference
Many years ago, a friend of mine told me, "One cannot own too many books about Project Server." I agree with him. Even though I have been the co-author of multiple books on both Microsoft Project and Project Server, I appreciate the fresh approach that Kenneth Steiness applies to this book. His approach is proactive project portfolio management (proactive PPM, as he likes to call it), which focuses on how to plan and manage a project in a proactive manner using Microsoft Project 2013 and Project Server 2013 (aka Project Online). In his book, I like the use of color illustrations and color text to emphasize particular thoughts and ideas. The screenshots are crisp and clearly labeled. The book has numerous exercises that allow the reader to practice the skills presented in each chapter. Of special interest is Appendix B in which Kenneth documents how to create the custom views referenced throughout the book. Even though I have many Project Server books already on my bookshelf, I am glad to have one more book on the subject. Therefore, I heartily recommend this book as an excellent reference on Project Server 2013 (Project Online).
PMBOK Guide Principles Meet Practical Project Management Methodology Using Microsoft Project
This is the best book I've found and read that includes PMBOK guide PMP concepts, a thorough methodology (Proactive PPM) with the project management process steps from initiation to closing, with best practices and techniques for any project manager to follow using Microsoft Project step-by-step. The handy accompanying MS Project views supplied with the .mpp files are invaluable. Kenneth Steiness writes in an accessible voice with great explanations that makes the subject matter easy to learn and put into practice. At the end of each sub-chapter there are exercises to help gain acumen. The accompanying final result files ensures a path to competence. Excellent book! I look forward to more books from this author.